Impact CRM: The AI-driven CRM every business needs
Discover why Impact CRM should be your next CRM and how it is the most efficient and effective way to extract value from your data and bring the benefits of AI to your business
Most people in business agree that data has value. Despite this 87% organisations are classified as having low business intelligence (BI). An organisation's BI rating reflects its ability to increase the value of data assets and take advantage of analytics technologies like artificial intelligence (AI).
Companies with low BI rely largely on spreadsheet-based analyses and personal data extracts. It's also common for individual business units at these companies to pursue their own data and analytics initiatives as stand-alone projects.
If this sounds like your business, you are far from alone. However, your business' ability to compete at the sharp end of industry depends on how well it uses its data to better engage with clients. A low BI can be improved by implementing an enterprise-wide data and analytics strategy. The most effective way to improve your analytics maturity is through an integrated analytics platform like Impact CRM that extends current infrastructure to include modern analytics technologies.
Impact CRM is designed to capture all your organisation's data – customer data, account data, interaction-related data – and present the most relevant information at the most appropriate time so your agents can better engage with customers.
Most platforms fail to achieve this which is why so many businesses plan to replace their CRM.
There are always concerns when it comes to undertaking a change like a new CRM that affects the operations of a business. Many of those are based on the difficulties faced the last time the organisation decided to implement a CRM. For users there is a reluctance to change old habits. But Impact CRM is easy to use and has been designed to have an intuitive feel. It accelerates training time which helps to bring new users up to speed quickly.
WITHOUT AI IT'S JUST ANOTHER CRM
Data importing is one of the main concerns of management. The time it takes and the fear of losing critical data can be addressed by a well-planned onboarding programme.
Impact CRM also offers an unparalleled API architecture which takes all the hassle out of integration to your existing applications.
In addition to the advantage of its plug and play integrability Impact CRM is also a bespoke solution that you can add modules to suit the exact needs of your business. This enables you to scale the solution as you grow and avoids the one-size-fits-all approach of other solutions.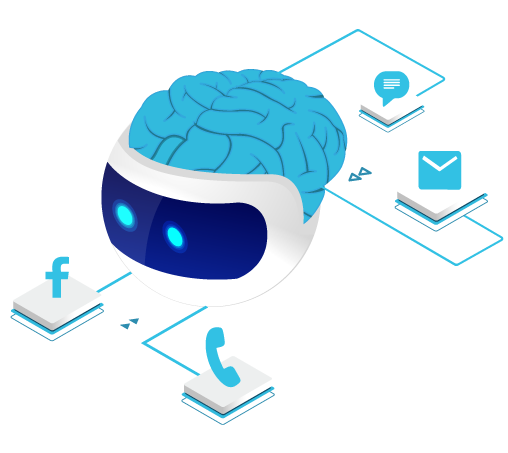 User dissatisfaction is one of the biggest problems with CRMs. They can be hard to learn and make it difficult for users to do their job. A case in point is when tasks require a user to switch between systems. This disrupts flow and adds more time to a task and is often the result of poor integration with other systems.
Impediments like these make it nearly impossible to deliver the type of personalised and differentiated experiences required to achieve satisfied and loyal customers.
Impact CRM achieves a higher level of personalisation by connecting to every channel a customer uses and every department along the customer journey. However, the key to achieving long-lasting customer loyalty is the ability to understand the context of each interaction within the customer journey. Without AI this is impossible to achieve at scale and this is what makes Impact CRM such an effective tool.
The number of businesses implementing AI has grown 270% in the past four years and tripled in the past year, which equates to 37% of companies now deploying AI. By 2021 70% of organisations will integrate AI in the workplace to assist employees' productivity which further underlines the increasing impact of this technology.
APPLYING AI AT SCALE REALISES ITS FULL POTENTIAL
Every digital business must start planning their AI strategy now, waiting simply isn't an option anymore. AI has the potential to be organisationally transformational and is at the core of digital business and its impact is already being felt. According to Gartner research, global AI-derived business value will reach nearly $3.9 trillion by 2022.
"The real challenge with AI is how leaders need to rethink the organisational fabric of their business to make sure it's applied at the right scale, beyond just solving a specific technical problem," says David Lancefield, a partner at PwC's Strategy&. "That's how AI's full benefits can be realised."
Customer support, sales, marketing and product development connect seamlessly to Impact CRM and it supplies the insights that are critical to ensure they function at their highest capability by processing your organisation's available data with AI.
AI is the key that differentiates Impact CRM from other CRMs. While other CRMs can increase the efficiency in part of a business, Impact CRM's influence extends throughout the organisation because it can connect to every function within a company and every channel used by its customers.
The best decisions in business are made by having access to the most relevant information at the most opportune time. Impact CRM enables your business to see the big picture and make better decisions.
Impact CRM delivers automation to make employees more productive. This increase in efficiency creates the time and space for your employees to build stronger customer relationships. Reducing inefficiency is just one way to increase profitability. Increasing revenue is the other side of that high value coin and is achieved through Impact CRM by helping a business increase retention and identifying the opportunities to cross-sell and up-sell.
ACHIEVE SCALABLE SUSTAINABLE GROWTH
Bringing our automated lead scoring and automated lead segmentation tools into your sales function identifies your hottest leads and ensures they go to the people best suited to convert them. One of our clients is reporting 86.7% prediction accuracy from the lead scoring tool after just three months following implementation. That accuracy figure will only increase as the accuracy of predictive analytics grows in relation to the volume of data that it processes.
ImpacTech offers the most reliable and efficient products and solutions for your business using AI and Big Data to achieve scalable and sustainable growth. Early adopters of our AI-driven CRM will enjoy the benefits of lower costs, better customer experiences and a get a head-start in pursuing new business opportunities.
Our clients who are using our AI-driven solutions like Impact CRM are well prepared for the disruption that will arrive as AI reaches a higher level of adoption and they will be best placed to reap the opportunities that arise.