AI-driven broker technology is the path to sustainable success
Every broker, both new and established, needs to source a technology partner who can deliver data-driven behavioural insights to ensure they thrive in today's market
Most well-established brokers and new brokerages should be weighing up whether the technology they use is able to drive long-term success. We live in a world where data-driven behavioural insights are an increasingly important factor in every business' ability to compete, including online trading.
Customer service is one of the key areas that has been disrupted by behavioural insights. Artificial intelligence (AI) tools exist that intelligently process data to help deliver a more personal service to clients. These insights enable brokers differentiate themselves from the competition.
People expect to receive the same level of customer service they get from other popular online services. This is why many successful brokers are investing in AI tools and platforms to stay ahead of the competition.
To achieve this requires making best use of the data your brokerage produces. Every customer facing department including sales, support and marketing generates data. When this is collected centrally and processed it enables a business to deliver a personalized customer journey.
The best tools for data processing are driven by AI and work most effectively when hosted by a central platform which enables these analytics to be channeled to the appropriate business functions when needed.
ImpacTech use subsets of AI like sentiment analysis, natural language processing (NLP) and machine learning (ML) in tools to process every interaction and extract business-driving predictive analytics. The platforms upon which these tools perform best is Impact CRM and Impact Telecom.
There is an ever-increasing selection of CRM and telecom solutions for a broker to choose from. Many can do a fine job of the basic customer management requirements and some cater specifically for the online trading industry.
AI-DRIVEN BROKER TECHNOLOGY OFFERS SO MUCH MORE
When a customer contacts a business, they want a quick response from someone who can solve their problem. A good CRM makes this possible if the customer speaks to an agent who has access to the context and history of all their previous interactions.
But there is so much more that can be learned from this communication. It is possible to gauge the mood of the customer during the interaction using sentiment analysis. ML can then extract every positive interaction to determine the key elements that make up a successful customer interaction.
This is equally possible for interactions when customers reveal negative sentiment. They help a business understand what actions need to be avoided. Agents can use these insights to understand the parameters within which they need to work to achieve positive outcomes more often.
Standardising agent interaction has taken a step further forward using AI. Within the next five years 95% of all customer interactions will be through channels supported by AI with intelligent chatbots.
In addition to their 24/7 availability, AI-driven chatbots are highly effective at maintaining brand consistency. They reduce customer response and waiting time and lift a significant volume of work from employees. More importantly, a chatbot driven by conversational AI produces more efficient lead acquisition, drives higher lead conversion, increases retention and improves customer support.
Intelligent chatbots have advanced to the point where it is difficult for a person to determine they are interacting with a bot. The range of personalized responses they offer builds relationships with clients and some businesses have seen conversions double using chatbots in comparison to their traditional website.
The information collected during chatbot interactions also provides other valuable insights including which products and services are most likely to help an agent upsell to an existing customer.
EVERY BROKER BENEFITS FROM AUTOMATED LEAD SCORING
Sales can be further boosted through the automated lead scoring tool. An ML algorithm intelligently processes the data during interactions with a lead to determine its quality and assigns a value to the likelihood of conversion. By focusing on the best leads conversions increase and far less time goes on chasing leads that are unlikely to convert.
Further efficiency to the sales function is achievable through automatic segmentation. This tool automatically assigns leads to the members of the sales team who are most likely to convert them.
Leads are processed and segmented based on the marketing channel they came through and automated sorting ensures the right sales team can follow up at the most appropriate time.
Marketing is another area that can see an increase in effectiveness through AI. Marketing campaigns can be better targeted and personalized while re-targeting campaigns deliver more precise marketing and even higher conversions. Applying AI results in a higher return on advertising spend through increased lead generation, qualification and conversion.
The influence of AI on marketing is on the increase in all industries. A recent MIT global survey (via MarTech) of 600 executives revealed that 9 out of 10 companies already use AI to improve their customer journeys. 75% of companies report an increase in revenue after using AI-driven marketing. Users of Netflix will be familiar with its personalized recommendations function. The popular streaming service saves $1 billion every year by avoiding subscription cancellations because this AI-driven function keeps their customers engaged by suggesting relevant content.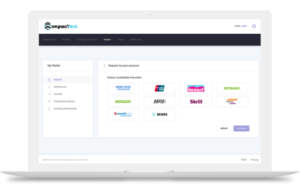 A GLOBAL MARKET REQUIRES A SMART PAYMENT PLATFORM
Most brokerages generate revenue from all over the globe. Channeling that revenue to your business is only possible with PSPs (payment service providers) that cater for every client.
One approach is to integrate payment gateways for each new territory as required. However, the ideal solution offers both the variety needed and ensures your business pays the lowest transaction fees. Impact PSP Gateway offers over 250 integrated payment gateways that adhere to a rule-based transaction flow. It is secure, highly available and offers real-time reporting.
The reporting system highlights issues and gives an overview of payment flows. It generates reports on currency, payments and gateway. Also, permissions settings manage who has access to sensitive information.
For new brokers the most efficient option for acquiring a trading platform is through a white label solution. MT4 and MT5 are highly popular trading platforms although Saxo Trader and cTrader are also viable alternatives. What these platforms have in common is that they are easy to use, easy to install and always available.
It's also very important to offer the flexibility of desktop, mobile and web trading and that these platforms synchronize automatically. Traders also expect to have access to educational features and to set up trading bots to trade automatically.
New brokerages often start in unregulated markets. It's a highly successful route for entering the industry.
However, compliance management is essential for brokers in regulated markets. This compliance monitoring tool is dedicated to forex brokers. It highlights potential compliance issues during calls. Many brokers have already adopted the module to improve compliance infringement detection. It also helps to highlight which members of their sales teams need more compliance training.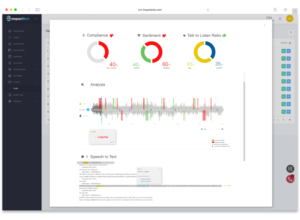 AS BIG DATA GROWS SO WILL THE EFFECT OF AI TECHNOLOGY
What makes AI technology a sound investment is that the insights improve with the amount of data available to process. This realization is spreading fast with more businesses embedding analytics and AI into operations and services.
The scope for applying AI in business is wide. It accelerates decision making, improves business processes, enhances user engagement and reduces costs. The potential to drive growth and profitability depends on the scope and number of business applications.
Where previous innovations have brought productivity gains and increased revenue growth, these have had linear effects that scale with investment.
AI can deliver non-linear improvements. Its ability to scale and generate insights through ML can deliver outcomes that far exceed the expectations of our clients.
For example, the prediction accuracy of the automated lead scoring tool was at 86.7% during the 3-month testing period.
As a result, the solution is now in use at all its call centers. The accuracy figure will only increase with access to more data to process. So too will the company's revenue because the entire sales force will focus only on the best leads.